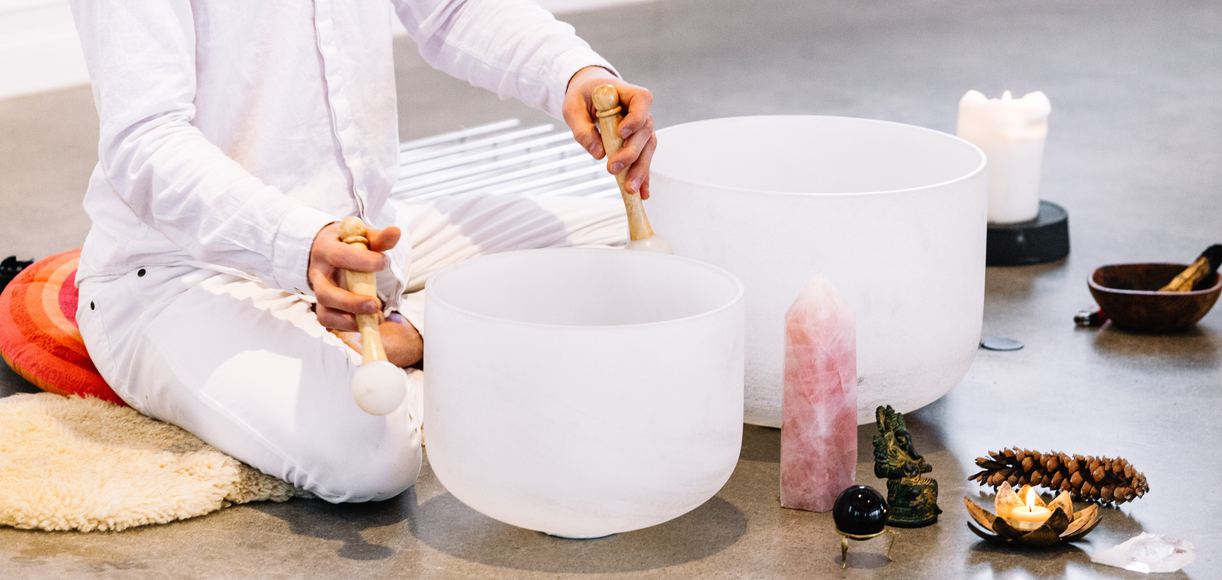 Though sound baths may seem like a "new age" concept, the practice of healing bodies through sound is technically thousands of years old with deep roots in cultures across the world. This "spiritual, cleansing music" varies according to place and culture, but it can be as simple as chanting an om following your yoga session or as complex as an hour-long experience in a dedicated space with a sound practitioner.
With expert guidance, we've outlined everything you need to know about what sound baths are, what benefits sound baths may provide to participants, and how you can experience one yourself.
What Is a Sound Bath?
In general, a sound bath is a meditative experience where those in attendance are "bathed" in sound waves. These waves are produced by various sources, including healing instruments such as gongs, singing bowls, percussion, chimes, rattles, tuning forks, and even the human voice itself. The music doesn't have a catchy melody or rhythm like you'd experience at a rock concert or symphony, but instead is a carefully selected wash of instrument and voice with notable resonance and overtones. "The intention is really to change and help balance the energy of the participants. During a sound bath, you don't want to hook into a melody. You don't want to repeat things because you don't want the brain to recognize a repeated beat. Instead, you want participants to release, and you want the brain to let go," explains Tamalyn Miller, the lead sound practitioner at Naturopathica Chelsea in NYC.
During the sound bath, participants lie on their backs—sometimes referred to as the Savasana position in yoga—for the entire experience, adds Christina Resasco, a sound healing practitioner and yoga therapist at Saffron & Sage in San Diego, California. The sound healing practitioner/s facilitates the experience, and sometimes the entire group participates with chants, mantras, or rolling oms. A guided experience like this generally lasts anywhere between 15 and 60 minutes.
Benefits of Sound Baths
"The general intention of a sound bath is to create a state of harmony in the listener by using sound to clear discordance from the participants' energy fields. Among the benefits are relaxation, an increased sense of wellbeing, expanded awareness, and access to inner visionary experience," says Seth Misterka, co-founder of the Crystal Sound Bath in Los Angeles.
In addition to helping the body relax, some healing sound practitioners argue that sound baths can potentially foster physical healing. Miller likens the experience to acupuncture. "If you go to an acupuncturist, you likely have energy blocked somewhere that the practitioner helps unlock. The sound bath is similar, but you're using frequency and vibration instead of needles," Miller says. "At Naturopathica, we've seen people have specific areas of their body where they can feel things loosening up or they feel pain literally going away."
While it may sound "too good to be true," corroborating data exists. Numerous studies have pointed to the therapeutic effects of music and sound therapy.1 "Sound therapy is deeply rooted in science and based on the principles of quantum physics and sacred geometry. There are hundreds of clinical trials and peer-reviewed white paper studies on the healing properties of sound," adds Resasco. "In fact, Western medicine uses sound waves on a daily basis in the form of ultrasound technology, which can be used to break up kidney stones among other things."
Musician, composer, director, performer and energy healing enthusiast, Nancy has dedicated her life, since the age of eight, to discover, experience and create music including sound vibrations able to encourage the innate healing of one's body, mind and spirit. Her quest to assist others in experiencing a higher and more divine/sacred self, has brought her to include sacred and inspirationally healing instruments. Nancy is now offering her powerful sound/vibrational integration methods through sound bath meditations and workshops.